Advanced Enclosure Design and Fabrication
Advanced Enclosure Design and Fabrication focuses exclusively on designing and fabricating subwoofer boxes for car audio installations. This DVD is designed for the enthusiast who wants to be able to take any woofer and design and build the best box match for it and the vehicle it's going into. We took the easiest and lowest cost techniques to create a video that shows you how to design and fabricate your own enclosures like a real pro. You'll learn the same techniques, software (free) and materials the pros use to make top quality subwoofer enclosures. And all of our videos were created by an MECP certified Master Installer so you'll know you're learning to do it the right way.
Here are some of the installation topics and techniques you'll learn that will help you save time, money and aggravation.
Building a Vented or Ported Subwoofer Box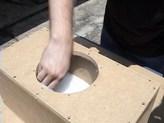 This DVD covers three of the most popular enclosures. The first is a vented (ported) enclosure with a round port. This enclosure is rectangular and very easy to build even for those without any experience. The enclosure is first modeled using free enclosure design software. Then the enclosure side dimensions are calculated automatically using another piece of free software. Finally the cut sheet for the wood is optimized and printed out to take to the lumber yard (again, free software is used).
---
Building a Bandpass Subwoofer Enclosure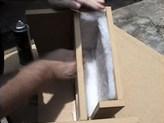 The second enclosure is a more complex bandpass enclosure that's popular for producing high SPL numbers over a range of frequencies (rap, hip-hop, etc.). The vent on this design is the less often used rectangular port. You'll see how to make the transition from using round ports to the more stylish rectangular port. You'll also learn how to easily calculate the proper vent length when adding corners to the vent. The enclosure is also modeled and laid out using the three free pieces of software detailed above.
---
Building a Truck Box Subwoofer Enclosure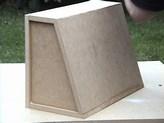 The final enclosure is a simple sealed design but in a wedge or truck box shape. This enclosure is also used to show how professionals get the "no seam" look in their carpet and coverings. This is a must know technique if you want to take your enclosure building skills to the next level. The enclosure is also modeled and laid out using the three free pieces of software detailed above.
---
Subwoofer Enclosure Materials and Tools
Enclosure materials to use

Wood type and thickness
Port materials
Fasteners and adhesives
Covering material and enclosure hardware

Tools needed for assembly
---
Design of the Subwoofer Enclosures
Enclosure type determination

Matching woofers and enclosures

Designing the three enclosure types

Sealed enclosures
Vented (Ported) enclosures
Bandpass enclosures

Customizing the enclosure dimensions for the vehicle

The "golden ratio"
Size vs. output optimization

Using free software to design and model the enclosure

In-depth tutorial on the design software including advanced features
Generating cut plans for the enclosure
Optimizing the layout of the cut sheet to minimize waste

Avoiding common enclosure problems in the design stage

"One note" bass
Port noise
Muddiness (group delay)
---
Enclosure Fabrication
How to get the wood cut for free
Three different tools you can use to cut the wood
Proper layout of the enclosure screws (and what type to use)
How to get perfectly centered holes every time
Fabricating ports

Simple round ports
Rectangular and square ports
What to do when the port is too long
Instant bonding glue that will eliminate drying time

Creating wedge (truck box) style enclosures
The importance of bracing
How to carpet your enclosure like a professional

What glue to use
What carpet to use
How to cut the carpet to get perfectly flush edges
Carpeting inset ends for a professional finish

The importance of the proper damping material
What type of screws to use to secure your subwoofer (using the wrong kind can cost you big points in a competition)
The formula for adding 1/3 more effective volume without increasing the enclosure size
---
Testing the Enclosure Output
Testing equipment

$1,000 or $35, you be the judge
Where to place the testing equipment

Testing procedures for reliable results
The effect of cabin gain

What it is
How to benefit from it

The effect of enclosure placement

Firing orientation
Which locations give the most "free" output

Experimenting with the enclosure sound
---
How to Get More SPL
The effect of power on enclosure output
Getting more output from the same power
The SPL formula used by top competitors in sound off events
SPL killers and how to avoid them
---
Our Money-Back Guarantee
Advanced Enclosure Design and Fabrication comes with a Risk-Free, One Year Money-Back Guarantee. If you aren't happy for any reason then we insist you send it back for a prompt refund of the purchase price. That's 12 months to check everything out, at your own pace, on your own time. That's an offer you won't get with any other installation videos.
List Price $49.95
Internet Price $39.95
Free Shipping!
You Save $10.00 20%

What are our customers saying?
"The info has been very helpful and my son and I have already built six enclosures. We are about to finish one car installation and will soon start on vehicle two. The video's really gave us a great start!"
Terry H.
Union City, TN
"I just finally got a chance to view the dvd's last night they seemed very well put togther and it made me wish i had not paid the guy at the stero shop 350.00 to make my box for me last year as I have my own ideas now and after watching the dvd I think I can do it."
Dan K.
Clarksville, OH
"I have been into car audio for a long time now. I have tried to do custom work on my cars but never got it right. Till know that I order your videos they are a lot of help and money saving. Thanks a lot."
Jose R.
Grand Prairie, TX
"i'm an 18 year old newby installer from bakersfield and I have recently started work at a high dollar shop where no one wants to teach me anything about enclosure building. I was impressed with the reviews I read from your video so I purchased it.
I think you did a tremendous job! The video was very well done and does a good job of getting an installer like myself a good direction to get moving in."
Adam W.
Bakersfield, CA
"the dvd's were for my husband who loved them! He says to tell you that not only were the videos very informative, but exciting as well and is looking forward to buying more videos soon!"
Megan W.
Des Moines, IA
"I really liked your DVD's. I found them extremely professional, informative and enjoyable. I'm going to be making several things using this method."
Jerry D.
Prescott Valley, AZ
"Once again you have produced another great rescource for car audio enthusiasts. I relly like the video and plan on using it to make my first enclosure for my wifes Honda or my Nissan."
David B.
Buffalo, NY

"The video helped out so much, especially on materials I should use. My ongoing project ""F1"" will surely be a great outcome."
Daniel I.
Fontana, CA
"The videos are great and have a lot of good information. I guess I am good test subject since I have never done any fabrication work like this before. So I am a newbie trying to learn from a master! I like how the videos were produced with an illistration of the equipment you will need."
Kenneth G.
Houston, TX
"dvd's were great, gave me a good starting point, im partners in a small car audio install company, and custom enclosures is a great selling point for subs. i got some good ideas watching the dvds, and have a couple jobs coming up in which im gonna do some fiberglass work."
David S.
Narberth, PA
"its a very clean a to the point dvd i have always wanted to learn it and never new how the boxes got framed I saw the dvd and said DAMM that's how they do it"
Ricky C.
Richmond, CA
"Well to start off your DVD's are awesome, the other ones that I ordered had some good ideas for unique projects but their explanations on how to do things weren't very good, and the production of the DVD's were nowhere near yours."
Derek L.
Des Moines, IA

"I enjoyed the enclosure video a lot. I have only built one box (ported wedge, out of particle board), and that was when I was 17. After that, I gave up . . . until now. Now I have the knowledge to get it done right. Fiberglass . . . boy does that bring back memories. I used fiberglass one time to help my buddy fiberglass the inside of his 200 SX for 4 Kicker L7 15's. I hated it, but with a little more insight from the first fibe video, I think I could handle it a little better and with more confidence."
Jeremiah T.
Murfreesboro, TN

"i have used just about the whole video and watched it about 8 times. it was the greatest video ever. i am almost done with my firt sub box to hold 2 10s.i loved the video. i loved your video and your great service thanks."
Walt K.
Largo, FL
"Hey man, the videos were perfect. I watched them, then left them out for my brother to watch. We were both very impressed."
Chris S.
Chelsea, MI

"I've watched the videos and must say that they are just what I had been looking for. The information on them has been very beneficial to me. I plan to construct a subwoofer enclosure in my Vibe. Having these DVD's as guide has given me some added confidence and knowledge that I have been looking for."
Gale S.
Old Laguna, NM
"I have watched the video's several times. Though i am NOT a novice by any means, these video's taught me ALOT of little things i didnt know HOW to do because of tools/materials needed. The videos are VERY well put together as well. I believe that these video's are EXCELLENT and very much worth EVERY PENNY I spent. Even after all the years of experience I have, these video's inspired me to try several projects for the FIRST time, and I'd HAVE to say, they are looking like a custom SHOP did these. Neighbors, family and ALL my friends are asking me how I did them. I have pictures of every step do date. I refer ALL my friends to your site. GREAT infromation and a WELL put together video"
Booker G.
Phoenix, AZ

"I love the dvds. I got great tips on making boxes and other things. i've just finished my first box using these techniques and it is great. I also order sruff from the websites provided."
Nathaniel Z.
Shinnston, WV
"I watched one of the DVD's quickly as I havent had time to sit down properly with it all but have to say - its absolutely fantastic stuff and will be a real help to me when I do an install in my Mercedes. In fact, the stuff looks so good, that I think I will need to buy your other fabrication DVD's, so please could you be so kind as to get back to me with the pricing and titles?"
Max Z.
London, England

"The DVD was exactly what I needed. You guys did a great job with details. I have watched it over 15 times, and will watch it 15 more. Each project is better than the last.What other DVD's do you have? Thanks for the knowledge, and the follow up. Will deffinetly spread the word. Have a great day, and God Bless."
Jared C.
Chico, CA

"The videos are awesome. I wish I would have found them earlier is my only regret. Great work!"
Daniel S.
Annandale, VA

"The DVD's are great, so informative I think my girlfriend is actually interested now! These are DVDs that I will own forever, good reference material. Nice job on the demos."
Gavin M.
Calgary, Canada

"I think this video is great!!! As a former Car audio installer, this video has shown me a lot of new methods of creating cool enclosures and these applications also apply to other projects. My nephew has watched the videos with me and has started his own little projects on his own with a little help from me. He's just about done with his speaker pod for his moped and I helped him install an 8"" woofer under his seat. Thanks again for your video!!!"
Eltruvel A.
Waipahu, HI

"You did a great job on creating this video. I've been researching this subject for a while, but after watching this video, I feel I'm now ready start building my custom enclosure. You touched on topics that I couldn't find in books, or on the net."
David F.
Fort Bragg, CA

"I've been researching subwoofer enclosure building for quite a while now. I really enjoyed your video and the "complete" presentation was terrific!"
Eric H.
Saugus, CA

Read even more customer comments here