Pictures of Custom Car Audio Installation
Car Domain - CarDomain.com has a very vast collection of vehicles. Not all feature the sound system but you are able to search for your particular vehicle. You can also set other criteria such as SPL system vs. a sound quality system. You can also search by equipment in the vehicle.
---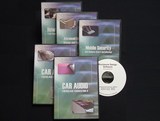 The Car Audio Help DVD catalog includes five different videos covering many areas of car audio installation and custom fabrication. Topics range from basic system installation (head units, amplifiers, speakers, etc.) and mobile security (car alarms and remote start) to subwoofer box design and fiberglass fabrication. If you're interested in custom fabrication and car audio installation be sure to check out what we have to offer.
Click here to see the discount DVD packages
---