Head Unit Size Differences
There certainly are a lot of different radio sizes available in factory sound systems. The OEM manufacturers and the aftermarket have always been in conflict. The OEM wants you to buy their equipment and the aftermarket wants you to upgrade to theirs. I believe that OEM manufacturers often make their factory radio openings in non-standard sizes for this reason (though I doubt they would officially say this). Of course there is a lot of money to be made in radios so the aftermarket manufacturers have come up with a variety of kits to solve these problems. Pioneer even makes radios that will fit many GM/Chrysler 1.5 DIN openings without a kit. If you find a radio that you want there is a very good chance there is a kit that will adapt it to your vehicle. Of course you can't get a double DIN radio into a single DIN opening without some serious dash modifications.
Most aftermarket radios are single DIN which have face dimensions of 50mm (2 inches) tall by 180mm (7 inches) wide. A double DIN is twice as tall and the same width. The radios do vary in depth and it is very important that you know if the radio you want will fit in your dash. For example, I recently installed a single DIN radio into the 1.5 DIN of a Buick using a simple 1.5 DIN to single DIN adapter kit. However the depth of the DIN radio was too long for the shallow cavity of the Buick. I was able to solve this by reworking the air ducts behind the opening with a heat gun. Not something I would recommend for the novice installer. In this case it would be easiest to buy a discontinued Pioneer 1.5 DIN that will fit perfectly. Or a regular DIN kit would work but the aftermarket radio would protrude from the dash a good bit. Whether that is acceptable will have to be your call.
As I said, nothing is impossible but if you are doing it yourself or want to minimize installation costs at your dealer, you will want to know what will fit. One of the easiest ways to find out is to use Crutchfield's online "outfitmycar" utility found here. This will give you a list of the radios that Crutchfield carries that will fit your vehicle. Crutchfield carries most, but not all, major brands.
---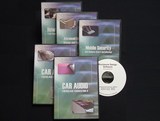 The Car Audio Help DVD catalog includes five different videos covering many areas of car audio installation and custom fabrication. Topics range from basic system installation (head units, amplifiers, speakers, etc.) and mobile security (car alarms and remote start) to subwoofer box design and fiberglass fabrication. If you're interested in custom fabrication and car audio installation be sure to check out what we have to offer.
Click here to see the discount DVD packages
---
Back to the Newsletter Archives Index