Crutchfield Car Audio
One of the best places to buy car audio, especially if you don't have access to a good local shop, is from Crutchfield. They offer free car stereo installation guides, information on removing car stereos, free car stereo adapter kits, car radio wiring harnesses and other car audio installation guides. Crutchfield was the first place I bought car stereo equipment from and I've been a customer for years. I highly recommend them for anyone in the market for car stereo.
They also have a couple of places in their site that are a little "hidden" but they have great deals there. The first is the specials sections where they keep all of there current car audio sales. You can get there here:
The other is called the Outlet. We used to love getting the special sale supplements from Crutchfield to see what they had in the outlet. Now you can check them online. It's mostly customer returns but they're still in great shape. The best deals are the Scratch & Dent items. As the name implies the items might be scratched or dented but they still work great. A lot of times I have to search to see where the damage is on items I buy. If cosmetics don't concern you then this another great place to get the biggest discounts:
Outlet Car Speakers and Subwoofers
---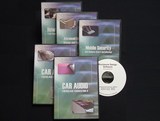 The Car Audio Help DVD catalog includes five different videos covering many areas of car audio installation and custom fabrication. Topics range from basic system installation (head units, amplifiers, speakers, etc.) and mobile security (car alarms and remote start) to subwoofer box design and fiberglass fabrication. If you're interested in custom fabrication and car audio installation be sure to check out what we have to offer.
Click here to see the discount DVD packages
---
Next Page ---> Repairing Car Audio Amplifiers